Zove Beauty
Rose Quartz Facial Roller & Gua Sha Set
Regular price
$59.00
$0.00
Tax included.
Shipping
calculated at checkout.
100% Genuine Rose Quartz Crystal

Months of research have gone into this thoughtfully sourced, handcrafted set - incorporate this into your daily routine for glowing & beautiful skin. Both Premium Facial Tools will come in a luxurious box (perfect for gifting!) and travel friendly linen pouches.
Is there a difference between Jade & Rose Quartz? We believe that both of them work the same; customers typically choose them according to their colour preference, or affinity to different stones or crystals. We focus on educating you around the physical benefits of the tools. Due to the natural formation of the materials, no two pieces are the same! Each individual piece will be unique to you and colours may vary between pieces. 
Regular Usage Can Help With: 
Promoting Lymphatic Drainage
Reducing Puffiness
Increasing Blood Circulation

Improving Product Absorption (use over facial oils / masks / creams)
Cooling & Calming the Appearance of Your Skin
How To Use & When:
Read Instructions & Watch our How-To Videos here
---
More from this collection
Customer Reviews
09/25/2020
Sabrina T.
Australia
WORTH EVERY DOLLAR
Ive been dying to get my hands on some quality face roller and guasha, but the ones sold in Sephora are overpriced and made of the same material. I think people arn't aware about how important lympathic drainage is. As a medical student, I research every beauty tool/product before I purchase (to make sure it works and understand the science behind it!). Face rollers and guasha has been used as a beauty tool for centuries in the Chinese culture. It reduces protein waste/buildup and increase collagen production, it depuffs your face too! who doesnt want plump, baby butt skin? In love with this product especially the pink one :*
Wow, thank you so much Sabrina for your kind review. We especially appreciate the fact that you did all the research and found your match - us! And yes to baby butt skin! :P You're the best! x Adeline
09/07/2020
NIdhi M.
Australia
The best beauty tool I gifted to myself !!
From the easy ordering to service to using the roller and gua sha its all 5 stars or more! Everyone these days is crazy about Gua Sha and Face rollers but what makes Zove products special are their genuineness and the customer service we get. I came across Zove beauty page on Instagram and that was the best thing that happened. Adeline is a beautiful person behind this beautiful business . She is as genuine as her products are. It was a breeze to order online and the tools arrived within 2days and were beautifully packed. I have been suing the gua shar and roller for 4 weeks now and I can see a difference in my skin texture . I feel very relaxed after a hectic work day when I massage my face with gua sha . I have recommend Zove products to my friends and they also have started to use them!! Thank you Adeline for making us girls beautiful
Nidhi! This is such a beautiful review, thanks for spending the time to let us know how much you love it :) You're the sweetest and I'm so glad the tools are giving you extra self care time on hectic days :) x Adeline
09/06/2020
Hinako T.
Australia
I love it !!
I am using the roller every morning and it does help to ease my puffy face in the morning and it feels so fresh after massaging my face with it :) Thank you so much !
So happy to hear, Hinako! Thank YOU so much :) x Adeline
09/05/2020
Vivi W.
Australia
Love it!
Bought one for myself a couple months ago and loves it!! Have bought more for gifts and my friends and family love it too. It helps our skin absorb the serum we're using and our skin feels smoother and looks brighter. Definitely will get more for gifts!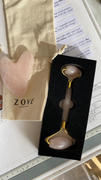 Oh thank you Vivi :) You've been the most generous with gifting these! Happy to hear it's given you brighter and smoother skin :) x Adeline
08/30/2020
Hkawn
Australia
More than Expected
I used to think that the facial rollers and gua sha were just unnecessary expense but I thought I might give it a go and it just totally changed my mind. It helps me get a good night sleep and wake up with so much refreshness ☺️ I love how these can be used for not only face but neck and head as well.. I love doing some head/scalp massage with the gua sha after using it on my face and neck.. Also, I love how quick the delivery was. I ordered it on Wednesday night and got it on Thursday afternoon. IT WAS LESS THAN 24hrs!! I was so happy to get it quick and was able to use it so ☺️☺️ Loving it so far And the packaging was so pretty as well LOVE IT! I even bought a set for a friend as a bday gift Defo recommend it if anyone's thinking of buying it!
Thank you so much for your kind words, Hkawn! So glad the parcel arrived so quickly and that you've loved using them :) Love seeing how generous you are with gifting your friends too!! :) x Adeline