Zove Beauty
Jade Gua Sha
Regular price
$26.00
$0.00
Tax included.
Shipping
calculated at checkout.
100% Genuine Aventurine
Regular Usage Can Help With: 
Increasing Blood Circulation
Improving Product Absorption (use over facial masks / creams)
Reducing Puffiness 
Promoting Lymphatic Drainage
Cooling & Calming the Appearance of Your Skin
Includes:
Premium Jade Gua Sha Tool
Travel Friendly Linen Pouch 
How To Use & When:
Read Instructions & Watch our How-To Videos here
Our carefully sourced Jade Gua Sha is hand crafted from high quality Aventurine Green Quartz and is a must have beauty tool on your beauty shelf! Incorporate this into your daily routine for glowing & beautiful skin. 
Months of research have gone into bringing this beauty to you at its highest grade. Due to the natural formation of the material, no two pieces are the same! Each individual piece will be unique to you and colours may vary between pieces. 
Please note that all Jade Gua Sha tools are sent via a non-tracked flat parcel via Australia Post (unless the Express Shipping option is selected).
---
More from this collection
Customer Reviews
02/06/2020
Emma P.
Australia
Love my gua sha
I love my Zove Jade gua sha - it's a beautiful colour and looks so pretty on my beauty counter. I like using it on my jawline, for extra definition and toning effect. It arrived extremely quickly; unfortunately, the day it arrived it slipped out of my hand and broke. I was able to glue it back together and it seems to work good as new :)
So good to hear that you're loving the Gua Sha tool! Will send you an email about the broken tool as well :) x
01/27/2020
Serene L.
Australia
Beautiful Tool | Great Customer Service
Zove's products are truly beautiful. Love seeing the result on my skin of using the jade gua sha every day for two weeks now. Great customer service - prompt response & speedy delivery. Adeline was happy to exchange the first gua sha I received as it was slightly chipped. Thank you so much, Adeline! Definitely recommend Zove's products to anyone who would like to pamper themselves or loved ones. :)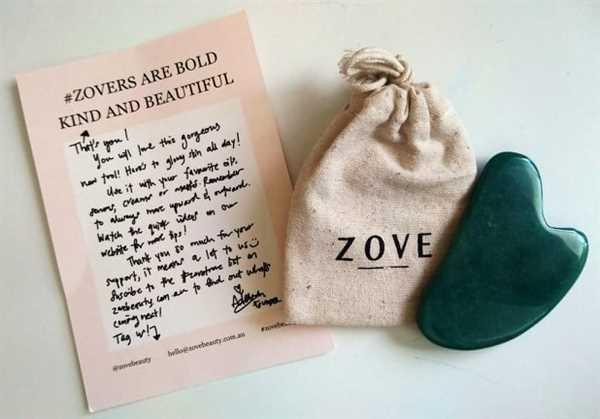 You are so kind Serene. Thanks so much for your detailed, honest review! :) Love that you're seeing great results!!
10/21/2019
Philippe N.
Australia
Gua Sha facial tool
Very high quality product. Smooth and strong jade stone with naturally cooling affect on the skin as it glides over. Also thankful for the amazing service and fast response from the seller. My stone arrived beautifully and thoughtfully packaged. Thank you
08/11/2019
Eilene L.
Australia
Does what it claims to
Been using my guasha for almost a week now. Love the feeling of cold guasha on my face and how it warms up my face (prove of blood circ) afterwards :) Also I'm super impressed with the quality of the tool ie weighs solid and smooth to touch. Great value for money, would def recommend to friends and family!
Love
A great addition to daily self-ritual. I was genuinely skeptical, but Gua Sha really does help to relax and tone the facial muscles. It's a worthwhile 5 minute habit to add to start and end the day. High quality jade and packaged thoughtfully in a small calico bag, easy for travelling or just daily storage to keep clean. Great service all round from Zove Beauty and Adeline!! Thank you!! : )