Zove Beauty
Rose Quartz Facial Roller & Gua Sha Set
Regular price
$59.00
$0.00
Tax included.
Shipping
calculated at checkout.
100% Genuine Rose Quartz Crystal

Our carefully sourced Rose Quartz Facial Roller & Gua Sha Set is hand crafted from high quality materials and is a must have beauty tool on your beauty shelf! Incorporate this into your daily routine for glowing & beautiful skin. 
Months of research have gone into bringing this beauty to you at its highest grade. Due to the natural formation of the Rose Quartz stone, no two pieces are the same! Each individual piece will be unique to you and colours may vary between pieces. 
Regular Usage Can Help With: 
Increasing Blood Circulation
Improving Product Absorption (use over facial masks / creams)
Reducing Puffiness 
Promoting Lymphatic Drainage
Cooling & Calming the Appearance of Your Skin
Includes:
Premium Rose Quartz Facial Roller
Premium Rose Quartz Gua Sha Tool
Luxurious Box in Custom Fit (Perfect for Gifting!) 
Travel Friendly Linen Pouches

How To Use & When:
Read Instructions & Watch our How-To Videos here
---
More from this collection
Customer Reviews
07/23/2020
Hannah T.
Australia
Amazing tools
Package arrived fast and in great condition. Been using the Rose Quarts Facial Roller and Gua Sha for weeks and I am totally loving it. I can see that the puffiness on my face has decreased. I just discovered some areas on my face that are actually tense and the tools have helped in relaxing those areas. I say its a must have product! Sending lots of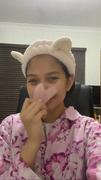 Thank you so much Hannah for your honest review! So happy you're loving the tools and that it's helping you relax tense areas!! :)
07/23/2020
Charlotte B.
Australia
Best beauty tools!
Product arrived exactly as pictured and is impeccable quality and design. Packaging was absolutely beautiful! Fast shipping. I highly recommend.
Thank you Charlotte for your kind & honest review! So happy you had a great experience :)
07/20/2020
Haylin P.
Australia
Absolutely love it
I don't usually write reviews, but HAD to write them for this one as I was so thankful for such kind messages and amazing products. I ordered them last Friday and they arrived today morning !! I am so impressed with the shipping and customer service. Thank you Adeline x
Haylin! Thank you so much for your beautiful review. We are also incredibly surprised at how quickly the parcel arrived from VIC > SA! Credit is definitely due to our amazing courier partner in this case :) Hope you'll love how they feel on the skin and let us know how you go!! x Adeline :)
06/19/2020
Emily V.
Australia
Rose quartz facial roller and gua sha
Beautiful, quality facial tools with customer service to match. There was a delivery mishap, which was rectified promptly and professionally by Adeline herself. Such a lovely experience x
Thank you Emily for your kind words :) x Adeline
06/18/2020
Leilani S.
Australia
Wonderful Tools
Thank you! I absolutely love them! They work really good and especially living in a hot environment they're so cool and refreshing to put on your skin Many Thanks, Leilani Ozies
Thanks Leilani, so happy to hear you're loving it! :) x Adeline